Join Our Expanding Women's Press Movement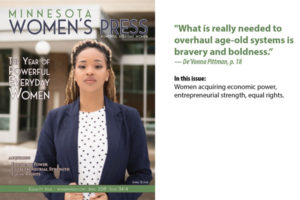 Minnesota Women's Press is the longest continuously published feminist print news vehicle in the U.S. After 34 years as a print magazine, we are expanding into digital storytelling, in-person Conversations, and solutions journalism. We are building partnerships with donors, grantors, and investors. Join us!
Here's what your support will help us accomplish:
Our first Women's Press Conversation (April 2018) was a success! We have hired a first-ever Events Development Director to help us create events that gather intergenerational and intersectional women together in conversation and issues-based roundtable discussions. Next up: Why We Vote (October 2018), End-of-Life Options (January 2019), Women's Entrepreneurial and Economic Strength series (2019).
We want to add Community Engagement Coordinators for social media, audio, and video storytelling.
We need to build a stronger website platform that allows us to create sponsored niche categories of content.
---
New Ownership
Mikki Morrissette became the new owner/editor of Women's Press, starting with the January 2018 issue. Her team is executing an ambitious vision.
Year 1: 2018
---
Year 2: 2019
Create a robust website with under-30 storytellers and transmedia stories
Extend visibility and voice, including a subscription campaign, for measurable online and print growth
Develop solutions-focused Conversations with selective Minnesota women engaged in complex community issues (e.g., affordable housing, education disparities, economic inequities, violence and trauma, restorative justice, exploitation) — a series that explores: "What is the vision of women's leadership?"


---
Year 3: 2020
Offer advertisers online content categories for measured niche readership
With the nationwide centennial of women's right to vote, launch ongoing digital tools that tally women's votes, designed to influence policy makers and product creators, tied in to Women's Press social media campaigns


---
Year 4: 2021
Launch an annual gala celebrating our recognition of that year's Changemakers
Develop a Women's Press radio show/podcast focused on its monthly themes, perhaps aligned with Progressive Radio 950
---
Since 1985, Minnesota Women's Press has been telling the stories about women, by women, for women. The independently owned Minnesota Women's Press currently has:
a loyal and growing audience of 115,000 online and print readers
free distribution at 500 sites, including libraries and co-ops
hundreds of returning long-term advertisers
a commitment to fact-checking
In this critical time for a shifting power dynamic, Women's Press is stepping up under new ownership to showcase the collaborative and creative leadership of Minnesota women. The new tagline:
Powerful. Everyday. Women.
---
Let's Talk
Stay in Touch